Frenquently
Asked Questions
– Validation takes place before you check in your luggage (in the departure hall)
2 types of validation :
– Electronic: find a self-service kiosk (PABLO in France) and present the barcode to be scanned.
– Stamp: If the kiosks do not work or if you are leaving Europe through a country other than France, you must find a customs office and present your printed document to a customs officer so that he/she can stamp it, then send it back to us.
– We normally process your form within minutes of receiving your request, as soon as you finish shopping!
No need to print the form if you are leaving the European Union through France! You just have to scan the barcode and we will send it to you on a PABLO terminal provided for this purpose. Find the list of terminals by clicking here
If you leave the European Union through another country than France (for example Belgium or Spain), you have to print the form, have it stamped by a customs officer, and send it back to us at the following postal address : Skiptax, 76 Rue de la pompe, 75016 PARIS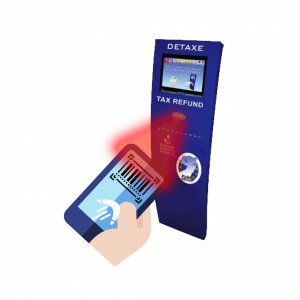 – On average 80% of the VAT (example: you buy for 1.200 € VAT included -> 20% VAT rate means 200 € VAT -> you get 170 €)
This rate can be increased by referring friends from the application!
– On average, 30% more than what you are usually refunded
Usually within 48 hours!
* The delay may vary depending on your country of residence, and the time of the year