Buy alcohol in France : what you need to know
Want to buy alcohol in France? If you're planning a trip to France and you're a British tourist who wants to experience the wines and spirits of France, you need to know about the export regulations. Knowing the ins and outs of buying alcohol in France is essential to having a successful experience. This article will give you all the information you need to know so you can enjoy your trip without risking any penalties.
One of the best ways to save money when shopping for wine in Calais is to use the SkipTax app. This app allows English tourists to receive a refund on their VAT for all purchases made in France, including wine. Simply sign up for free, and you can start saving money right away.
Buying wine in Calais : where to go
Calais is home to several wine cellars, including Pidou and Calais Wine, where you can sample and purchase regional wines. You'll find an extensive selection of cuvées, from dry white wines to full-bodied red wines and fruity rosé wines. Be sure to ask the owners or employees for their advice, who can recommend the best cuvées based on your preferences and budget. Also, if you want to know more about the best ways to buy wine in France, read this.
British alcohol export restrictions in France
However, it's important to be aware of the alcohol export limits for the UK in France. These limits apply per person, and any quantities exceeding these thresholds must be declared to customs. Failure to comply with these limits may result in penalties, up to and including confiscation of the goods.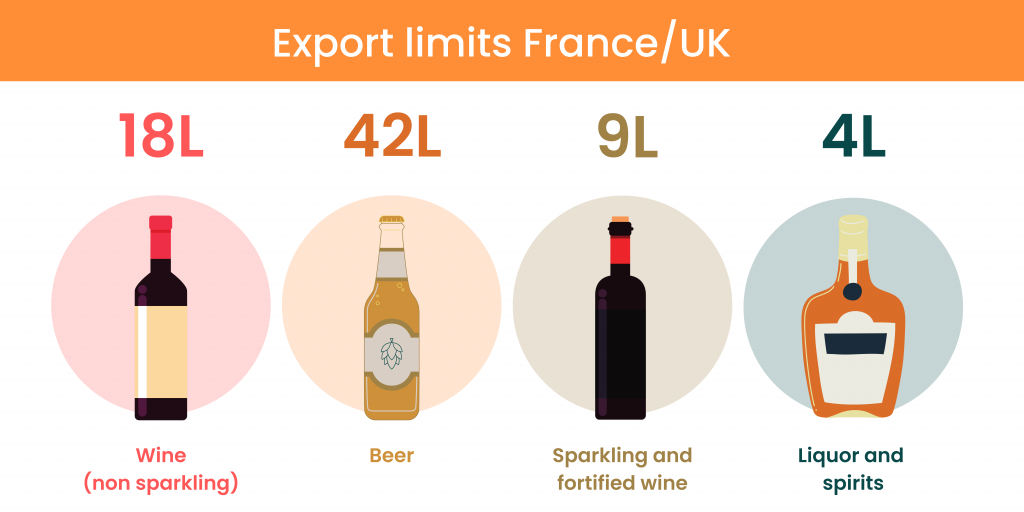 Wine (non-sparkling): 18 litres (24 bottles)
Beer: 42 litres (14 cases of 12 x 25cl per person)
Sparkling wine, fortified wine (such as port, sherry) and other alcoholic beverages up to 22% alcohol (excluding beer or wine): 9 litres (12 bottles)
Spirits and other liqueurs over 22% alcohol: 4 litres
Remember, the consumption of alcohol is dangerous for your health and must be practiced in a responsible manner. It's essential to enjoy wine and alcohol in moderation and experience all the other treasures that France has to offer during your stay.
In conclusion, with these tips and tricks, you can enjoy buying alcohol in France as a British tourist without any problems. Using the SkipTax app, visiting wine cellars in Calais, and being aware of the export regulations are essential to having a successful experience. So, raise a glass and enjoy your trip!